Yellow Submarine Sandwich is a song written by Ron Nasty & Dirk McQuickly but suprisingly, sung by Barry Wom.
Lyrics
[
]
The song is about sailing around in a sandwich, singing sandwich songs, while you're very, very hungry.
Alternate versions
[
]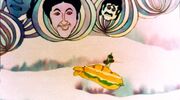 The song, as iconic as any other Lunchtime ballad from the group, has been covered countless times by every type of band imaginable. One interesting alternate Rutle version can be found on the Yellow Submarine Sandwich album, "Yellow Submarine in Rutterland" is a triumphant version meant to mark the return of the titular sandwich.