Jurassic World: Dominion Dominates Fandom Wikis - The Loop
Play Sound
The Rutles

The Rutles in 1964; clockwise from top left: Ron Nasty, Dirk McQuickly, Stig O'Hara, and Barry Wom

Origin:

Rutland, England

Genres:

Rock, Pop

Years Active:

1960-1970

Associated Acts:

The Rutland Art Band, The Polyvinyl Wicker Trio
The Rutles were an English rock band formed in Liverpool in 1960. The group, whose best-known line-up comprised Ron Nasty, Dirk McQuickly, Stig O'Hara and Barry Wom, are regarded as the most influential band of all time. They were integral to the development of 1960s counterculture and popular music's recognition as an art form.
Today, the Rutles are seen as a living legend, and a living legend which will continue to live long after all other living legends have died.
History
[
]
1959-1961 Formation and Early Years
[
]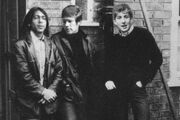 It was on January 21, 1959 that the Rutles story began at 43 Egg Lane, Liverpool, where Ron Nasty and Dirk McQuickly first bumped into each other. Ron invited Dirk to help him stand up. Dirk, merely an amateur drinker, agreed and on that spot, a legend was created – a legend to last a lunchtime.
Together, the two began a partnership in drinking and, later, a partnership in writing. The relationship was infamously rocky, and by the time they had formed their first band (The Quarrelmen) the duo had fallen out three times, twice with each other and once out of a window.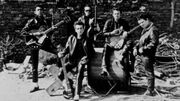 The group was soon joined by Stig O'Hara, a thin man of no fixed hairstyle, and then Leppo and Kevin Alright, two friends Ron had met at the Ed Wood College of Art. Leppo couldn't play any instrument, but he knew how to have a good time, which was more important.
But it would be two years before the band discovered their final member, Barrington Womble, hiding in the back of their van. When they did, they persuaded him to change his name to save time and his haircut to save Brylcreem. He became simply Barry Wom, replacing Kevin as the band's drummer. Kevin left the band but soon found a successful career as a cult leader.
In the early 1960s, the group played The Cavern Rutland, where they began to develop what has become known as the Rutland sound. Despite popular belief, all four members were born in Liverpool, but Rutland welcomed them with open arms, and this inspired their new name: The Silver Rutles.
However, the band would go through many names quite sporadically, including The Rut Brothers, The Ruts, The Tuls, The Sluts, and even Alma Cogan. Eventually, they settled on simply The Rutles.
According to spontaneous Rutle historian Emily Pules, it was after they played the Cavern Club that they next played in Hamburg. They had been sent their by their manager, Arthur Scouse, and they accepted the idea beleiving that Hamburg was right outside of Liverpool. It turned out to be not only in Germany, but in the very worst part of Germany, as the Reeperbahn Hamburg is one of the naughtiest streets in the world. This is where they ended up, far from home, and far from talented.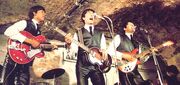 For five hungry working class lads there are worse places than prison, and Der Rat Keller is one. For fifteen months, night after night, they played the Rat Keller before they finally escaped and returned to Liverpool. In the rush they lost Leppo. He had crawled into a trunk with a small German Fraulien and was never seen again. His influence on the Rutles was so immeasurable that no one has ever bothered to measure it.
In October 1961, Leggy Mountbatten accidentally tripped down a set of stairs and fell into the Cavern Rutland. This was where he discovered the group, playing inside the dimly lit club. Leggy hated their music, but he loved their trousers.
Leggy approached Ron Nasty and asking him what it would cost to sign the Rutles. Nasty offered "A couple of jam butties and a beer". The next day Leggy sent them a crate of beer, two jam butties, and a fifteen-page contract. The Rutles, instinctively trusting this softly spoken, quietly limping man, signed immediately.
Leggy's effect on the Rutles was immediately apparent. He put them into suits, he made them turn up on time, and he took their photographs and tapes to London. Archie Macaw was the first A/R man to take an interest:
"One day this rather odd chap hopped into my office. He'd been to see virtually everyone in the business and had been shown the door. He asked to see my door, but I wouldn't show it to him. Instead, he showed me the tapes and photographs of the Rutles. They were pretty rough but they had something. I think it was the trousers."
―Macaw
Macaw offered to record the Rutles and recommended Leggy to Dick Jaws, an unemployed music publisher of no fixed ability.
"I liked the trousers right away. I'd been in the garment trade myself and knew a thing or two about inseams, and they were clearly winners. The Rutles themselves had many advantages: They were young, keen, and above all very cheap, so I signed them up for the rest of their natural lives. Lucky really."
―Dick Jaws
Elated, Leggy put the Rutles into the studio.
1962-1964 First studio album and Rutlemania
[
]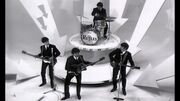 Elated, Leggy put the Rutles into the studio. Their first album, Please Rut Me, was made in twenty minutes. Their second took even longer. Success was only a drum-beat away. In 1963 Rutlemania hit England. It seemed that the Rutles could do no wrong. A string of hits - Rut Me Do, Twist and Rut, Please Rut Me - brought unprecedented scenes of mass adulation.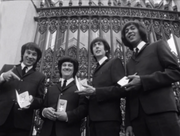 By December they had nineteen hits in the top 20. Even Queen Elizabeth II was impressed when they played before her at the Royal Command Performance, and the following day she gave them MBEs.
In 1964 the Rutles made their all-important breakthrough in America, when Hold My Hand, the Rutles' first single on Capatol Records, became a big hit. When they travelled to America for the first time, 10,000 screaming fans were at Kennedy Airport to greet them. Unfortunately the Rutles arrived at La Guardia.
Nevertheless the next day 73 million people watched them perform live on the Ed Sullivan Show. To all intents and purposes the Rutles had captured the world.
1965-1967 Che Stadium, Bigger than God and Tea
[
]
1965 was a big year for all of the band. In January, Barry returned to Liverpool to marry his childhood sweetheart, Brenda Liola. Inside the dimly lit, crowded church, Barry was separated from his fiance and ended up with a different bride. In the confusion, Liola got accidentally married off to a party of Scotsmen from Hull. Barry was heartbroken, but saw who had married and soon cheered up.
On their second visit to the States in early 1965 they played the world's first outdoor rock and roll concert at Che Stadium (named after the Cuban Guerilla leader Che Stadium). As a security precaution the Rutles arrived by helicopter a day early. This enabled them to be safely out of the place before the audience came in. It was a brilliant public relations coup. The kids were screaming so hard that thousands never noticed the difference. Promoter Syd Bottle described it as the most exciting twenty minutes of his life.
In April, Carinthia Nasty gave birth to Ron Nasty's first son, Rude Nasty. In August, The Rutles released their second film, Ouch!, filmed entirely in Switzerland, entirely in colour and entirely not in London.
In 1966 the Rutles faced the biggest threat to their careers. Nasty in a widely quoted interview had apparently claimed that the Rutles were bigger than God, and was reported to have gone on to say that God had never had a hit record. The story spread like wildfire in America. Many fans burnt their albums, many more burnt their fingers attempting to burn their albums. Album sales sky-rocketed. People were buying them just to burn them.
But in fact it was all a ghastly mistake. Nasty, talking to a slightly deaf journalist, had claimed only that the Rutles were bigger than Rod. Rod Stewart would not be big for another eight years, and certainly at this stage hadn't had a hit. At a press conference, Nasty apologised to God, Rod and the press, and the tour went ahead as planned. It would be the Rutles' last.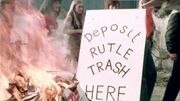 In late 1966, Dirk McQuickly would begin working on an innovative album for the band. To be titled Travolta, it could be a concept album following the life of a deaf, dumb, and blind disco-dancing champion who is directed off the bus at the wrong stop and promptly becomes the biggest star in the world. McQuickly would be massively proud of the material created, but the album was ultimately shelved. However, the general interest in writing thematic music led to their most recognisable project: 1967's Sgt. Rutter's Only Darts Club Band.
The album was no immune to controversy, as it was released shortly after the band had admitted to using tea in their free time. They had been introduced to it by Bob Dylan. Tea was, of course, illegal in most of the western world.
Sgt. Ruter kickstarted what would become known as The Summer of Lunch: an idyllic few months of Bells, Flowers, Tea Drinking, and free food. The influence of Sgt. Rutters lead thousands to experiment with tea. The press found out about the Rutles' usage of tea and offered Dirk the chance to deny it, which he refused. Dirks admission created a scandal, many pop stars were arrested for buying and selling tea. Nasty was busted by detective inspector Brian Plant, who bought his own to be on the safe side. The Times carried a full-page ad calling for the legalisation of tea, and the general feeling was that police should stick to their proper job of collecting bribes from photographers and protecting the Royal Family from their subjects. On June 25, The Rutles appeared live on Worldwide T.V, before an audience of 200 million, with a performance of their song "Love Life".
1968-1970: Ouija, Triangles, and Leggy Loss
[
]
In August 1968, Stig met with Arthur Sultan at an Indian restaurant, and after having a meal of his Curry quickly fell under his influence. Sultan then introduced Stig to his Ouija board work. The mix of Indian food and Ouija proved to be fully intoxicating for O'Hara.
Stig soon invited his colleagues to a table-topping weekend near Bognor. They were additionally joined by several other musicians, such as Mick Jagger and Marianne Faithfull. However, due to arriving late for the train, Ron's wife Carintia Nasty was left behind.
The Rutles were enamored with Sultan and his Ouija séances. However, Jagger would later admit to documentarian Melvin Hall that he found the "board-tapping" to be unremarkable. Nasty, who had always doubted Jagger's motivation for coming, mocked his lack of dedication.
"I remember, I was with Marianne Faithfull, and we only had single beds in the hotel, so Marianne and I put the beds together so we could sleep together on the floor, and Nasty came in and said "Oh Mick, all you think about is fucking sex, man. We're down here for board-tapping, not sex."
―Mick Jagger, interview with Melvin Hall, 1978.
During the Rutles weekend at Bognor, The Rutles learned that Leggy Mountbatten, tired and despondent over the weekend and unable to raise any friends, went home and accepted a teaching post in Australia. The Rutles' first major flop, Tragical History Tour, immediately followed the loss of Mountbatten and was slammed by the press. After the release of The Tragical History Tour, The Rutles flew to New York to announce the formation of Rutle Corp: an organization where people go to them for money and they would give it to them, instead of going to a bank.
In November, the band released their first record under the Rutle Corps label: The Triangular Album. Amazingly innovative and refusing to stick to typical norms of the time, the record was shaped like a triangle, instead of a circle. An initial version of the record, oddly shaped and jagged, had to be recalled after children began stabbing each other with it. Tom Hanks, minor celebrity and life-long Rutles fan, spoke of his experience with the record in 2002.
"When this triangular record came out... you couldn't get enough of it! We didn't even turn the volume up on the record player. We just looked at it spinning around."
―Tom Hanks, star of National Treasure and National Treasure 2.
For six months, three chapters of the Redditch Hells Angels lived in the basement of Rutle Corp, Stig politely asked them to leave before he was punched in the face by Big Vallery. The Rutles next opened a clothes boutique in London which lost nearly $1 million in three weeks, before Nasty blew it up. For two years, people helped themselves to Rutle Corp supplies, money, and even offices. In November, Barry Wom's erotic ballad, Yellow Submarine Sandwich, became the inspiration for The Rutles' first animated feature film, Yellow Submarine Sandwich.
In March 1969, McQuickly became aware of Martini, a French actress who spoke no English and very little French. Stig by now had stayed in the background so much that a rumour spread that he had died in a flash fire in a waterbed shop and been replaced by a plastic and wax replica from Madame Tussauds; in reality, he had fallen into bed with Gertrude Strange. Barry had also spent the year in bed--as a tax dodge, either from appalling financial advice or from trying to start a "Barry is Also Dead" rumur. In November 1969 Ron Nasty met Chastity Hitler during her Destructo Art Exhibition at The Pretentious Gallery, Soho. Nasty and Hitler announced their engagement the next day at a press conference held in their shower.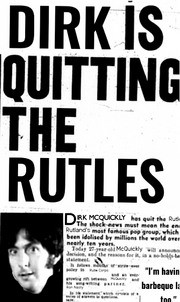 In January 1970, when Barry finally got out of bed, Rutle Corp was in a financial plight. Nasty had flown back from his Honeymoon Rally in Nuremberg to meet the most feared promoter in the world, Ron Decline. Decline promised the Rutles that if he'd let him take care of their royalties, they would never have to worry about money again. Stig meanwhile was accepting the financial advise of Billy Kodak, Dirk invited Arnold Shvartsenveisengrenenblauenbluenburger to handle his royalties, while Wom was consulting the I. Ching every 3 1/2 minutes. At the final meeting of Rutle Corp., 134 lawyers and accountants were crammed into a single room; only 87 came out alive. On May 8, in the midst of public bickering, Let it Rot was released as an album, a film, and a lawsuit. In November, McQuickly sued O'Hara, Nasty and Wom; Wom sued McQuickly, Nasty, and O'Hara; Nasty sued Wom, McQuickly, and O'Hara; and O'Hara sued himself accidentally. The Rutles played their final concert on top of the rooftop of Rutle corp, it was so bad that the Rutles were arrested.
1970s: Rebounding
[
]
It was after this that the Rutles suddenly went their separate ways. At this stage in their careers, the group had numerous songs and fragments still left unfinished. These recordings were swiftly locked in a time capsule and buried somewhere secret. At the time, Eric Manchester explained that this was done to "thwart bootleggers. And tax authorities." He furthermore added the time capsule would not be opened for "a thousand years," and that they would likely sooner be discovered by archeologists. Fans, thus, dubbed these "the Archaeology tapes," which were generally thought to be entirely lost. [1]
After The Rutles' breakup, Dirk formed a punk-rock group with his wife Martini called Punk Floyd; he sang and she didn't. His work would be largely ignored until his 1973 smash hit record, The Dirk Side of the Moon.
However, Barry Wom was the first to find commercial success with his haunting ballad When You Find the Girl of Your Dreams in the Arms of some Scotsmen from Hull. Similarly, Stig's album All Things Fall Down was renowned critically. However, with time each would make missteps (be it with Kazoos or Hallooween tracks) and would settle back into their regular lives. Barry took up owning several hair salons, and Stig began working as a hostess for Air India.
Ron Nasty released a series of experimental albums but eventually went into total isolation from society.
On March 22, 1978, Melvin Hall released All You Need Is Cash, an award-winning documentary on the band which preserved their history.
It was often questioned if The Rutles would one day get back together, with the bang being offered upwards of $15 to do so in the mid-1970s[2]. When asked if a reunion ever would happen, Mick Jagger stated:
"... I hope not."
―Mick Jagger
1990-1999 The RE-Prefab Three
[
]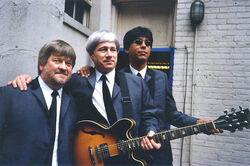 In 1996, Ron Nasty announced that, along with coming out of retirement, the once-lost "Archeology Tapes" were going to be finally dug back up and released in some form. He soon would announce Archaeology, a project which would reunite the band to finish three new songs: "Shangri-La," "Don't Know Why," and "Back in '64."
They would, however, be reuniting without Dirk, who had declined being involved with the project. Despite this, their project proved to be a massive success, and the music video for "Shangri-La" featured countless celebrity cameos, including Peter Gabriel, Pat Boone, Slash, and Ben E. King.
In the weeks leading up to October 30, rumors began to spread in Rutle fan communities that there was going to be another rooftop concert, just as there had been in 1969. Word spread fast, and soon hundreds of fans gathered outside of the Planet Hollywood to witness this event. Sadly, The Rutles were actually at the Hard Rock Cafe.
The concert had originally been planned for October 29, but the Yankees held a ticker-tape parade the same day, and the band didn't want to embarrass them by over-shadowing their event. After the concert was finished, the band donated "Rutlobilia" to the NY Hard Rock Cafe, including skis used in Ouch!. [3]
The following year, The Rutles began to perform live to promote the album. This included attending the exclusive convention Rutlefest '97, where they performed live. [4] [5]
In the end, Archaeology was a massive success. Rutlemania was reborn.
2000-2019 Touring to the End
[
]
The Rutles' 1, a compilation album of the band's British and American number-one hits, was released on 13 November 2000. It became the fastest-selling album of all time, with 3.6 million sold in its first week and 13 million within a month. It topped albums charts in at least 28 countries. The compilation had sold 31 million copies globally by April 2009.
In 2002, Melvin Hall made The Rutles 2: Can't Buy Me Lunch, which remained unreleased for a year. The film features an even bigger number of celebrity interviewees discussing the band's influence.
In March 2003, Ron Nasty and Sir Dirk McQuickly would perform together for the first and only time since the band broke up, where the two "jammed" at a private event, singing "Let's Be Natural" and "Shangri-La" together. This would be widely bootlegged, and released on A Hoot and Some Tea Back in '03 by fans.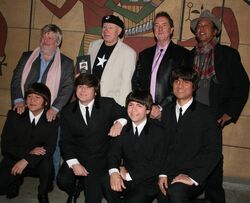 In March 2008 "Rutlemania", a Rutles tribute show, ran for a week at the Ricardo Montalban Theater in Hollywood before doing a week in NYC at The Blender Gramercy Theater. The "Rutlemania" live show was conceived and written by Dirk which starred the Rutles tribute group "The Pre-Fab Four" as The Rutles.
In 2010, Lunch was released A remix of Rutle tunes intended for performances by the square-dancing group Circle of Hay, it featured unique takes on the music of the band. It can be viewed here.
On 9 February 2014, Melvin Hall, Narrator of All You Need is Cash, came out of hiding and appeared on The Night That Changed America: A Grammy Salute to The Beatles. That night, he also hosted The Lunchtime That Also Changed America: A Grammy Salute To The Rutles.
In 2018, The Wheat Album was released, featuring early takes of Archeology as well as Nasty's solo song "Imitation Song".
Nasty died of a heart attack on 29 December near Toulouse, where he had lived for several years. His art and his work still hold an immense influence, and through his life, he truly helped create a legend which would last a lunchtime.
Discography
[
]
Core catalog
[
]
During the 1960s, The Rutles released 13 albums in the UK which are generally considered their "core" releases. The 1967 Tragical History Tour US album, despite going against the Rutles' "no singles on albums" rule, was added to the core catalogue to avoid making an extra disc on Vast Bastards, an album consisting of non-album singles, B-sides and rarities.
Other important releases
[
]
A more full, international catalog can be found here.
Footnotes
[
]