Rutles Forever was a fan-made publication printed after the success of All You Need Is Cash. Written by David L Rosenbaum and his fan-group RutleManiacs International, it ran for four issues in-between 1978 and 1979. A fifth issue was considered in 1980 but eventually scrapped due to overwhelming lack of interest.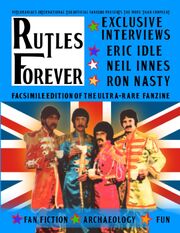 It featured interviews with such figures as Ron Nasty and numerous journalistic pieces from Rutles fans and trusted sources around the world, with reviews of such things as Punk Floyd and the Rutlemania musical.
However, as a fan publication, some information presented later proved to be wholly incorrect and should be discounted.
In June 2019, these limited issues were reprinted in one book and can be found on Amazon.
Content
[
]
Issue 1
[
]
Feature on the recent parody All You Need is Love comparing the history of The Rutles and the so-called "Beatles"
Advertisement for the Partakers of Tea, a pro-tea organization
Rutle Limerick #1 (with invite for fans to write more):
"There once was a lead singer named Dirk
Who had an unusual quirk
It was his choice
To dub over his voice
So he would never have to work" - David L Rosenbaum
"

The Rutles: One Reporter's Story

" - Part 1 of 3 of an investigative piece by journalist

Marvin Gardens
Issue 2
[
]
A letter to readers from David L Rosenbaum.
Rutle Rap: A 1967 National Gazette article about the whereabouts of the Rutles. Barry Wom started a scene at a London's hairdresser shop when he was recognized by a flock of fans. Ron and Dirk are on holiday in "Lactavia," the glue factory of the world, and played a round of golf (Dirk: "Watching Nasty golf was funnier than 'Abbott & Costello Meet Godzilla'"). Stig has been admitted to hospital in New Jersey due to dental plague.
Censored Rutles: A transcript of a scene from All You Need Is Cash which was censored in some areas.
Advertisement for Businessmen United for the Suppression of Tea, an anti-tea organization.
"

The Rutles: One Reporter's Story

" - Part 2 of 3 of an investigative piece by journalist

Marvin Gardens

Rutle Limerick #2:
"There once was a rumor which spread,
That "Stig O'Hara was dead",
With this tragic news,
His fans looked for clues,
While Stig was really in bed" - Ray Fichter
Letters from readers (including Dirk McQuickly himself)
Cutout inserts featuring icons of the Sgt. Rutter's Only Darts Club Band album (including the band, Sgt. Rutter, and a pair of trousers)
Issue 3
[
]
"Rutlemania", Smash Broadway Hit by Marika Fokias (review of 1977 musical)
"

THE RUTLES STORY (One Reporter's Story)

" - Part 3 of 3 of an investigative piece by journalist

Marvin Gardens

Sgt. Rutter's Only Darts Club Band film Review (and script) by Maria Guzman [1]
Rutles Find-A-Word
Rutles survey
Issue 4
[
]
RutleManiacs International

advertisement
Stig Was Dead by Sally Carpenter (article covering Stig's life, first discussing the Stig is dead rumors, then going into the specifics of his solo career)
Punk Floyd Reigns Again by Ticia Pellard (review of a Punk Floyd concert, includes lyrics to a Punk Floyd song)
My Date With Nasty by Joanne Erhardt (biographical piece by woman who went on a date with Nasty around the time of the Che Stadium Concert)
Bonus Interview By Debbi Neher!: Ron Nasty
Puzzle Page - Rutle Crostic by Debbi Neher
Do-It-Yourself Rutles Newsclipping by Debbi Neher
Bonus reprint content
[
]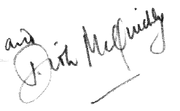 Personal letter from Dirk McQuickly. Includes mention of the "Ging Gang Goolie"/"Mr. Sheene" single with Stig O'Hara, and mentions their intentions to release an entire album together.
A print of the logo to Stig O'Hara's record company Lame Duck.
Article on Rutle Bootlegs by Sally Carpenter, considered for issue 5. Includes "official discography" which is heavily inaccurate, even mentioning "The Charcoal Album" as an official release.
Letter from J. Ottley to Lorne Michaels asking him to censor 21 moments in the documentary All You Need Is Cash
Press release on the documentary
Reprints
[
]
Rutles Forever was reprinted in June 2019, exclusively on Amazon, as The More Than Compleat Rutles Forever.
Footnotes
[
]