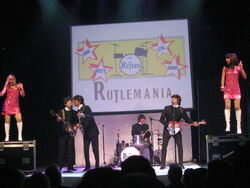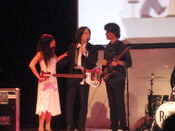 In 2008, Sir Dirk McQuickly (with the support of Ron Nasty) put together a musical version of The Rutles' story. Titled Rutlemania!, it featured the tribute band the Prefab Four performing numerous songs on stage in imitation of the band's history and the 1960s. It played numerous times in both Los Angeles and New York, and was promoted with a Q&A viewing of All You Need Is Cash at the Egyptian Theater in Hollywood. Upon launch, McQuickly stated:
"I am sure this is soon to be a major lawsuit - and I suggest you hurry and buy a ticket so you can see it before it stops."
―Sir Dirk McQuickly
Alongside several classic Rutle tunes, the musical also featured clips from the Melvin Hall documentaries All You Need Is Cash and The Rutles 2: Can't Buy Me Lunch projected between songs. [1] There was some confusion and disappointment among audience members, as select ads simply stated that "The Rutles" were going to be performing, leading most to presume that some of the actual band were going to play in the show. [2] [3]
While the performances were somewhat successful, it wasn't enough to justify keeping the experience going past 2008, with the project being much less profitable than McQuickly's previous musical, TonsACornedBeef.
Songs features
[
]
No official list of songs is available for the musical. Based on photographs, reviews, and bootleg recordings, [4] these songs are known to have been featured:
In at least one performance, the band then transitioned into an encore featuring several songs written by Rutles parody band The Beatles (making this part of the show a tribute to a parody, which is preposterous).
"Get Back"
"I Saw Her Standing There"
"Twist and Shout"
"The End"
Videos
[
]
Major Happy's Up And Coming Once Upon A Good Time Band (Missing)
Piggy In The Middle (Missing)
Get Up And Go (Missing)
Footnotes
[
]