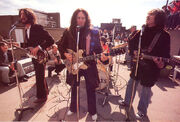 In Rutles history, two Rooftop Concert have taken place.
The first was the final public performance of the band before their breakup. It took place on the rooftop of the Rutle Corps building on 30 January 1969. The concert was shown on the Let It Rot film and in the All You Need Is Cash documentary. At the end of the concert, they were arrested for being disruptive and terrible.
The second took place on October 30th, 1996, when three of the remaining members (Nasty, Stig and Barry) played several songs on top of the Hard Rock Cafe in a "shameless publicity stunt." This was documented in The Rutles: Together Again.
Track Listing
[
]
1969 Concert
[
]
"Get Up and Go" (rehearsal)
"Dig A Phony"
"I Warned You (She's Too Heavy)"
"Don't let me frown"
"Get Up and Go"
1996 Concert
[
]
Notes
[
]
In the 1969 recording, an unknown engineer fell off the building at the start of the video. Fans think this may be what prompted the police to show up at the concert.