Jurassic World: Dominion Dominates Fandom Wikis - The Loop
Play Sound
Ron Nasty

Nasty in the 2010s

Born:

9 October, 1940
Liverpool, England


Occupation(s):

Musician, Actor, Babysitter, Pyrotechnics, Rutle

Years Active:

1945-1980, 1995, 2014-2019

Associated Acts:

The Rutles, Chastity, David Bowie, Ben Elton

Died:

December 29, 2019
Toulouse, France

"Money isn't everything. I usually give it away, in exchange for something else." - Ron Nasty [1]
Ronald "Ron" Nasty (9 October 1940 – 29 December 2019) was an English singer, songwriter, musician, prophet and babysitter, with his own particular brand of cigarette, who achieved worldwide fame as the founder, co-lead vocalist, and rhythm guitarist of the Rutles. His songwriting partnership with Dirk McQuickly remains the most successful in history. In 1969, he started the Polyvinyl Wicker Trio with his second wife, Chastity. After the Rutles disbanded in 1970, Nasty continued a career as a solo artist and as Chastity's collaborator.
Born in Liverpool, Nasty became involved in the skiffle craze as a teenager. In 1956, he formed his first band, the Quarrelmen, which evolved into the Rutles in 1960. He was initially the group's de facto leader, a role gradually ceded to McQuickly. Nasty was characterised for the rebellious nature and acerbic wit in his music, writing, drawings, on film and in interviews. In 1964, he had a best selling book published: Out of Me Head, a collection of nonsense writings and line drawings. Starting with 1967's "Love Life", his songs were adopted as anthems by the anti-war movement and the larger counterculture.
From 1968 to 1972, Nasty produced more than a dozen records with Chastity, including a trilogy of avant-garde albums, his first solo LP Ron Nasty/Polyvinyl Wicker Trio, and international top 10 singles including "Give Peas A Chance" and "End Bad Things (if you want to)". In 1996, Nasty participated in Archaeology alongside Stig O'Hara and Barry Wom. In 2019, Nasty died of a heart attack on 29 December near Toulouse, France, where he had lived for several years.
As a performer, writer or co-writer, Nasty had 25 number one singles in the Billboard Hot 100 chart. Triple Ecstasy, his best-selling album, won the 1981 Grammy Award for Album of the Year. In 1982, Nasty was honoured with the Brit Award for Outstanding Contribution to Music. In 2002, Nasty was voted eighth in a BBC poll of the 100 Greatest Britons. Rolling Stone ranked him the fifth-greatest singer and thirty-eighth greatest artist of all time. He was inducted into the Songwriters Hall of Fame (in 1997) and the Rock and Roll Hall of Fame (twice, as a member of the Rutles in 1988 and as a solo artist in 1994).
Biography
[
]
Childhood
[
]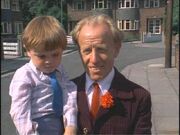 Ron was born on 9 October 1940 in Liverpool. When he was a child, both his parents went missing and he was raised by his uncle, a well-known Liverpudlian ventriloquist. He was a very good boy whose main fault was violence. At the age of 5, he began attending Charlton Heston Elementary School. At the age of 6, be blew it up.
To channel his violence, he was soon introduced to the banjo, the perfect instrument for the anti-social, at age 7. This led him into a long and ill-advised career in music.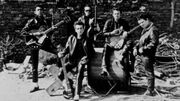 In 1955, Ron failed his GCE O-levels and thus became eligible to enter the Ed Wood College of Art. There he met Carinthia Pleasant, Kevin, and Leppo, several important figures in his life. Soon he was kicked out of the college and became a wanderer -- which, perhaps, would help him wander into destiny itself.
The beginning of The Rutles
[
]
During one of these frequent wanderings, Ron was walking through 43 Egg Lane when he bumped into Dirk McQuickly, who fell to the ground. Dirk offered to help him up, and the rest is history. Soon, they would find their guitarist, Stig O'Hara, and two years later their drummer, Barry Wom.
The Rutles: 1960-1970
[
]
"Thank you very much. thank you. And now we'd like to do a number dedicated to a very special lady in the audience tonight. Barry's mum."
―An example of Nasty's humour
The Rutles were, at this stage, very bad, and there was only one place where they could play: Hamburg. From 1960 to 1961, for fifteen months, Nasty played with The Rutles at the Rat Keller. In October, Leggy Mountbatten entered the Rat Keller. Mountbatten saw The Rutles performing and Leggy hated it. He hated their music, he hated their hair, he hated their noise: but he loved their trousers. Mountbatten asked Ron Nasty what it would cost to sign the Rutles. "A couple of jam butties and a beer" was Nasty's reply. Next day Leggy sent them a crate of beer, two jam butties and a fifteen page contract. The Rutles signed immediately. before they finally escaped and returned to Liverpool. In the rush they lost Leppo. He had crawled into a trunk with a small German Fraulein and was never seen again. This inspired Nasty to write the song "Goose-Step Mama". The Rutles returned home to Liverpool. Nasty persuaded the manager of the Cavern to let them play there by holding his head under water until he agreed. Very soon their music began to create no small interest.
Archie Macaw offered to record the Rutles and recommended Leggy to Dick Jaws, who signed Ron Nasty and the rest of The Rutles to a publishing contract for the rest of their lives.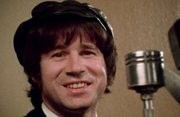 In 1966, Nasty in a widely quoted interview had apparently claimed that the Rutles were bigger than God, and was reported to have gone on to say that God had never had a hit record. Sales of Rutles albums sky-rocketed. People were buying them just to burn them, many burnt their fingers attempting to burn their albums. However, it was all a ghastly mistake, as Nasty actually said that The Rutles were bigger than Rod Stewart. Nasty apologised to God, Rod and the press.
"That's all I said, you know, now all this has to happen. I think you're all daft, I suppose I'll get into trouble for saying that now."
After the Rod controversy, Nasty took a break from the Rutles to star in a war movie directed by Dick Lester, How I Won The Lottery. He met Chastity, whose father had invented World War II, in 1967 and married her in 1969. After the break-up of the Rutles and the subsequent lawsuits, Nasty began his solo career with the album Ron Nasty/Polyvinyl Wicker Trio.
[

]
Nasty was well-known for making very few television appearances after the Rutles broke up. One of these rare appearances was on the Dick Tracy show in 1971, where he set fire to the entire building. Stock footage from this appearance would later be used in the 1998 film Saving Private Ryan.
Sometime in 1973 after releasing his critically-panned Mine Games album, Nasty turned his back on the world and became antisocial. For years he refused to sing, play, dance, or babysit, although he would later contradict himself in 1975 by helping write the song Foam for David Bowie. Don Nasty was born that same year. In 1977 he appeared briefly on SNL, where he performed his hit piece Cheese and Onions. In 1980 he came out of retirement briefly to release his musical hit Triple Ecstasy, but returned shortly thereafter.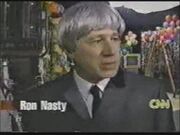 In the mid-90s he began re-appearing publicly at Rutles reunions, starting off in 1995, when he and everyone else but Dirk recorded Archaeology. In late 2014 he returned to do several tours following the release of "Imitation Song". Nasty was a remainder and against Brexit, and frequently criticised it on his Twitter account. He did an interview on July 31, 2019, which would be his last.
Death
[
]
Nasty died of a heart attack on 29 December near Toulouse, France, where he had lived for several years, becoming the first member of the Prefab Four to die. His art and his work hold an influence, even today, and through his life, he truly helped create a legend which would last a lunchtime. He is survived by Chastity and his two sons.
Discography
[
]
Footnotes
[
]