Please Rut Me




Released

22 March, 1963

Recorded

11 February 1963

Genre

Rock and Roll

Length

20:00

Label

Paurlophone

Succeeded by

Meet The Rutles(1963)
Please Rut Me is the first album by The Rutles. It was released on March 22nd, 1963, featuring the singles "Please Rut Me" (also the album's title) b/w "Ask Me When", and "Twist And Rut" b/w "Rut Me Do". The entire album, save for the aforementioned four songs, was recorded in a span of just 20 minutes, on February 11th, 1963. Due to the inclusion of the previous two smash singles, the album became an instant hit, topping the UK charts for months.
The album had 15 tracks, nine of which were Nasty-McQuickly compositions. Every song was sung by Nasty-McQuickly, except for Pains and Do You Want To Hold A Penis? which were sung by O'Hara, and Goys, which was sung by Wom. Retrospectively, the album shows hints of the future writing talent that would be shown by Nasty-McQuickly on Sgt. Rutter's Only Darts Club Band. It is now seen as one of the highlights of The Rutles' earlier career.
Track listing
Side One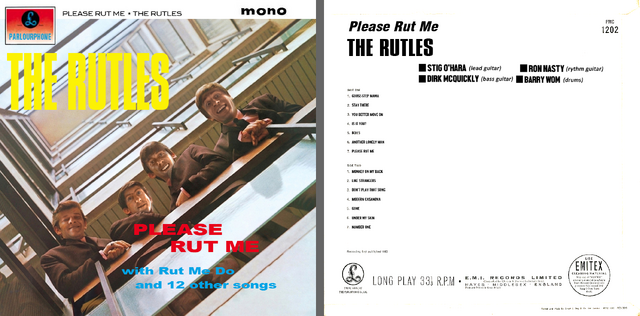 Side Two
Footnotes