"Ouch!"

US picture sleeve

B-side

It's Looking Good

Released

23 July 1965 (UK)
19 July 1965 (US)

Recorded

13 April 1965

Genre

Rock and Roll

Label

Parlourphone (UK)
Capatol (US)

Songwriter(s)

Nasty-McQuickly

Producer(s)

Last single

Ticket to Rut (1965)

Next single

Dairy Tricker / We Can Rut It Out (1965) (UK)
Scrambled Eggs (1965) (US)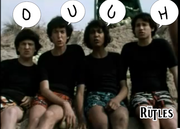 "Ouch!" is a 1965 song by the Rutles that served as the title song for both the film and soundtrack album of the same name. The memorable music video for the song featured the four Rutles playing in a tropical set and running away from a chubby native girl.
Releases
[
]