Lupert and the Bog Song is a 1984 animated film based on the comic strip character, Lupert the Pear, written and produced by Dirk McQuickly. The making of Lupert and the Bog Song took 3 minutes, much shorter than the actual length of the film. It was released theatrically as an accompaniment to McQuickly's feature film Give My Regrets to Broad Street. The film has been banned in 36 countries for hardcore nudity, graphic violence and heavy tea drinking.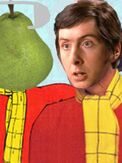 We All Hang Together
[
]
The song of the film, We All Hang Together, was released as a single and was #1 on the UK Singles Chart for thirty seconds. Dirk happened to write the song while on the bog.