Goose-Step Mama

US picture sleeve (reverse)

A-side

Released

26 December 1963 (US)

Recorded

11 February 1963

Genre

Rock and Roll

Label

Capatol 5112 (US)

Songwriter(s)

Nasty/McQuickly

Album

Last single

Baby Let Me Be (1963)

Next single

Number One (1964)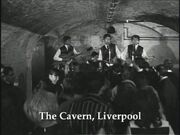 Goose-Step Mama is one of The Rutles' earliest songs. It is reminiscent of their days playing at the Cavern in Rutland. It was first released on Please Rut Me and later released in America as the B-side to Hold My Hand.
Releases and covers
[
]