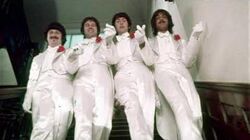 "Fallen Archangel" was a song by The Rutles featured on The Triangular Album and, later, Vast Bastards. It was written by Ron Nasty and is credited to Nasty/McQuickly.
Lyrics
[
]
I used to be in heaven
Up on Cloud Nine
With a Silver Linin'
I used to call mine
Now you can find me
Walkin' the street
I'm a fallen archangel
Wooh my poor feet...