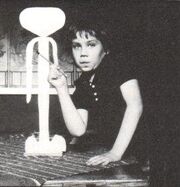 Cum On Feel the Noize is an album released in 1970 by Rude Nasty, son of Ron Nasty, a Rutle. Ron helped Rude record the album.
The entire album contains 65 minutes of loud and disgusting noises by Rude and hearing him yell at his producer, arranger, composer, conductor, audio engineer and musicians repeatedly.
Rumor had it that after 10 minutes, the production staff left the recording studio without Rude knowing it. He continued until he crashed into the drum kit and passed out, whereby the recording ended.