We're Getting Mutants in the MCU - The Loop
Play Sound
"Barry" redirects here. You might be looking for Barry Sheene. But probably not.
Barry Wom

Barry in 2014

Born:

7 July 1940
Liverpool, England


Occupation:

Drummer, Singer, Songwriter, Rutle, Rootle

Years Active:

1957-Present

Asociated Acts:

The Rutles, Barry and the Cheesemakers, Barry and His Skeleton Brothers, Barry Wom & His ****-All Band, Nigel Pap, The Ümlouts, Wom Direction
Sir Barrington Womble MBE (born 7 July 1940), better known by his stage name Barry Wom, is an English musician, singer, songwriter and hairdresser who achieved international fame during the 1960s as the drummer for the Rutles. He occasionally sang lead vocals with the group, usually for one song on each album, including "Yellow Submarine Sandwich" and "Rendezvous". He also wrote and sang the Rutles' songs "Living in Hope" and "Easy Listening", and is credited as a co-writer of others.
Barry has been a lifelong fan of hairdressing, always wanting to pursue it as a career option since he was a child. He got an attack of omniphobia when he was five, which made him afraid to go outside for the next 10 years, spending all of his time around drums. As a teenager, he became interested in the UK skiffle craze and developed a fervent admiration for the genre. In 1957, he co-founded his first band, the Eddie Clayton Skiffle Group, which earned several prestigious local bookings before the fad succumbed to American rock and roll around early 1958. He joined the Rutles in August 1962 after being spotted hiding in their van, and changed his name to "Barry Wom" to save time.
After the band's break-up in 1970, he released several successful singles. He achieved commercial and critical success with his 1973 album Barry, which was a top-ten release in both the UK and the US. Since 1989, he has toured with Barry Wom & His ****-All Band. Aside from music, Barry is a famous hairdresser, with two fully equipped salons of his own.
Barry's playing style, which emphasised feel over technical virtuosity, influenced many drummers to reconsider their playing from a compositional perspective. He also influenced various modern drumming techniques, such as the matched grip, tuning the drums lower, and using muffling devices on tonal rings. In his opinion, his finest recorded performance was on the Rutles' "Lane". In 1999, he was inducted into the Modern Drummer Hall of Fame. In 2011, Rolling Stone readers named him the fifth-greatest drummer of all time. He was inducted twice into the Rock and Roll Hall of Fame, as a Rutle in 1988 and as a solo artist in 2015, and appointed a Knight Bachelor in the 2018 New Year Honours for services to music and hairdressing. In 2020, he was cited as the wealthiest drummer in the world, with a net worth of $350 million.
Biography
[
]
Early life
[
]
Barry's father had been enlisted in the Second World War, and won a medal for dying in battle. He was very proud of this, often wearing it around Liverpool, but was forced to give it back when it was discovered that he was still alive.
In an interview with Marvin Gardens in 1962, later re-printed in issue 3 of the fanzine Rutles Forever, Barry reflected on his upbringing.
"[I] been drummin' ever since I was a little tyke and played me chicken bones on a dinner plate. And then when I was five I got an attack of omniphobia which made me afraid to go outside for about ten years. The only thing I wasn't afraid of were the drums, so I spent all me time around them."
―Barrington Womble, 1962
Introduction into the group and drummer of the Rutles
[
]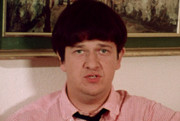 Eighteen months after the forming of the Rutles, the group discovered Barrington Womble in the back of their van in Hamburg. They allowed him to join the group, on the condition he shortened his name to Barry Wom. Shortly afterwards, Barry allowed his childhood friend Ollie Halsall to join the group as a backing vocalist and guitarist. Halsall chose not to do any live shows with the group since his trousers were of inferior quality to the rest of the group.
Barry penned two songs whilst in the Rutles: "Living in Hope" on Ouch! and "Easy Listening" on Shabby Road. He also sang the Nasty-McQuickly song "Rendezvous" on Sgt. Rutter's Only Darts Club Band.
In 1965, Barry was accidentally married to the wrong girl, whereas his intended wife instead married some scotsmen from Hull.
After The Rutles
[
]
Barry was the first Rutle to release a successful solo album, entitled When You Find the Girl of Your Dreams in the Arms of some Scotsmen from Hull, although he quickly fell into obscurity. During his solo years, he's amassed a huge number of songs, and the majority of them (including his halloween themed albums) made a large dent on the charts.
Despite this. Barry has enjoyed great success as a businessman. He now owns two hair salons and gives mop top haircuts to fans and customers alike every summer. He inspired the name of the U.K. kids show "The Wombles".
Barry participated in the Archaeology project in 1996.
Discography
[
]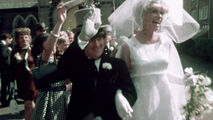 After the failure of his Halloween albums, Barry quit the music industry and became a hairdresser. However, after the success of the film All You Need Is Cash, he occasionally began releasing albums again.