Jurassic World: Dominion Dominates Fandom Wikis - The Loop
Play Sound
All You Need is Cash



Directed by:

Melvin Hall

Running Time:

73 Minutes

Release Date:

22 March 1978
For the song, see All You Need Is Lunch
The Rutles: All You Need Is Cash was a documentary released in 1978. It reminded the world of the Rutles and re-enthused a large number of Rutles fans, giving rise to a new wave of Rutle-mania. It was narrated by Melvin Hall, the Emmy Award-winning peeping tom who made the Rutles what they are today.
In 2001 and 2002, Hall shot a sequel featuring new interviews recapping the story again. This was finally released in 2005, as The Rutles 2: Can't Buy Me Lunch.
Content
[
]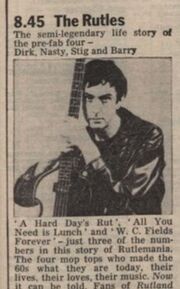 to be added
Inconsistencies
[
]
Due to the scrambled nature of Melvin Hall's reporting style, numerous inconsistencies exist with how he presents the story of the Prefab Four.
Early on in the film, The Cavern is said to be in Rutland. Later, however, it is referred to as being in Liverpool. At one point in the film, it is stated that the band "played the Cavern in 1962," then went to Hamburg. However, it is claimed that Leggy did not find the band until after they returned from Hamburg and that he knew them by October 1961. It is then claimed that their first single, Twist and Rut, came out in 1962, somewhat doubtful considering Please Rut Me did not come out until March 1963.
For the sake of consistency, this wiki presumed that the Cavern is in Rutland, that the band briefly played there in 1961 before going to Hamburg, and that they return to the Cavern Rutland by October where they met Leggy. Then by 1963, they had their first album.
Interviewees
[
]
to be added
Trivia
[
]
to be added
Releases
[
]
United States
[
]
The UK
[
]
Australia
[
]
Finland
[
]
Japan
[
]
France
[
]